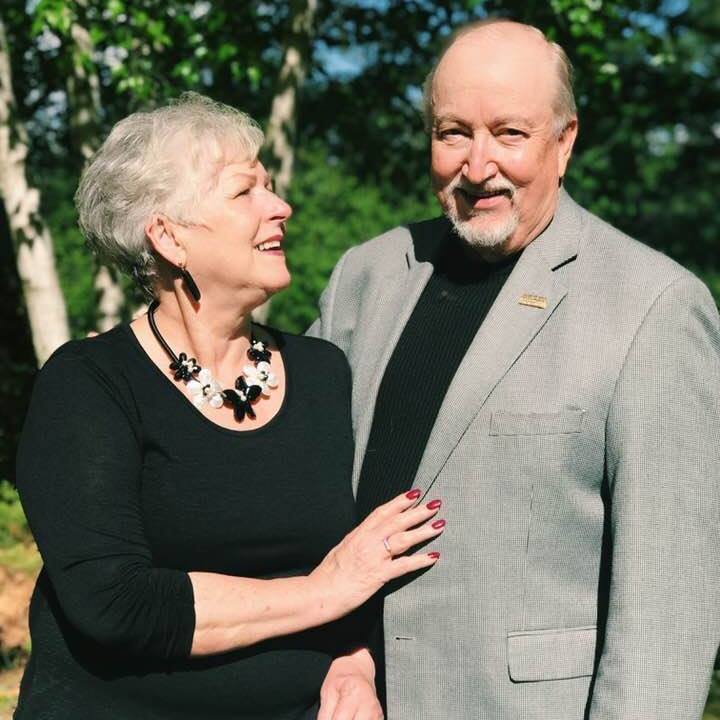 Meet Jim and Ramona...
Founders of RAIN - Resurrection Apostolic International Network, a global network of churches, pastors, missionaries, and trans-local ministers. They are also the Founders of IAHM - The International Association of Healing Ministries. They have taught, trained, and equipped more than 100,000 Pastors and Leaders around the world, "To Do the Works of Jesus." Their heart is also to train hungry, passionate believers, through Healing Schools, Seminars, and Institutes, who then accompany them on Missions Trips, which is a "Fast Track" to having an anointed ministry of healing the sick.
The Rickard's have a passionate vision for Revival, Spiritual Awakening, and a great harvest of souls, through "Restoring the power of the Holy Spirit to The Church of Jesus Christ!" They are both sought after speakers for Healing Schools & Healing & Miracle Services, and for conferences and events around the world. The Rickard's served for 37 years in pastoral ministry before releasing their Church to give themselves to equipping a wider sphere of The Church around the world. They have been happily married for 55 years, and have 5 grown and married children, 13 grandchildren, and 7 great-grandchildren. They make their home in beautiful, West Central Wisconsin.
Jim Rickard
Jim Rickard is the Founding Apostle of RAIN, as well as Founding Pastor and Apostle of Church Church of the Resurrection, an Apostolic Church in Brooklyn Park, Minnesota which was touched powerfully by a revival in 1995. He and his wife Ramona are the founders of the International Association of Healing Ministries, a global movement with a mandate to raise the level of healing and creative miracles around the world and to equip every believer to do the works of Jesus. Since 1995 Apostle Jim has hosted apostolic and prophetic conferences, and healing conferences in the Twin Cities, leading a group of over 35 pastors and Christian leaders from the 5 state area who serve as a Regional Support Team. His heart is to see unity in the Body of Christ with the purpose of bringing revival to the Church, and a great spiritual awakening to the people, leading to a great harvest of souls for our cities, state, nation, and for the world!
Jim's apostolic heritage is four generations deep, starting with Glenn "Dad" Ewing in 1946. Ewing was a Presbyterian pastor who longed to see the church restored to the power of the early church in the book of Acts. As Glenn committed himself to seasons of prayer to that end, the Lord sovereignly baptized him in the Holy Spirit and gave him a deep revelation about the restoration of the apostolic and prophetic offices to the church. His son, Brother Robert Ewing, a second-generation apostle, gave input and laid apostolic foundations for the New Testament Church at Way of the Cross Church in Blaine, Minnesota in the 1970's and 1980's where Rev. Don Pfotenhauer served as the Founding and Senior Pastor, and Jim Rickard served as an Elder and on the Pastoral staff, as well as being sent out in a trans-local evangelistic, teaching, and healing ministry. Before the establishment of RAIN, Jim served with Don Pfotenhauer on his Apostolic Team from 1985 - 1995 (United Network of Christian Ministries and Churches - UNCMC) which gave oversight to more than 40 ministries and churches. In response to prophetic words of revival coming through Jim to the Minnesota metroplex in January of 1995, Jim asked for and received a release from UNCMC. Compelled by the Holy Spirit, and with a sense of urgency to build unity among the greater Body of Christ in the Twin Cities of Minneapolis and St. Paul, he took up the mandate. Within weeks full-blown revival broke out at Resurrection, touching hundreds of churches. Jim has served faithfully in trans-local and apostolic ministry since 1975. Jim was a charter member of C. Peter Wagner's International Coalition of Apostles.
"People change what they do less because they are given analysis that shifts their thinking than because they are shown...
Ramona Rickard
When Ramona married Jim Rickard more than 50 years ago, she had no idea of the amazing adventure that the Lord had prepared for them if they said "Yes!" not only to one another, but to Him. Together they raised 4 daughters and one son, all of them now married. They have thirteen grandchildren, 3 of them married, and one great granddaughter. Ramona has served by Jim's side right from the beginning of their ministry. Together after serving from 1975 - 1985 in ministry at Way of the Cross Church, teaching a "Walk in the Spirit Class," as Home Cell Group Leaders, Youth Pastors, and traveling nationally teaching Healing Seminars and doing Healing Services, they founded Church of the Resurrection in 1985. Their church was touched powerfully by Revival in 1995 and for 6 months people came from every state in the union, and some from foreign countries, to experience a powerful touch of the Holy Spirit at the nightly meetings. Knowing that they needed to put good foundations under those who were being saved and filled with the Holy Spirit, and those who were just hungry for more, they immediately birthed a "School of the Holy Spirit" which became a full time, 2 year endeavor, "Heart for the Nations Bible School and Ministry Training Center." Ramona served as the Director of HFTN, and also as one of the teachers. The Pastors Luncheons that started during Revival developed wonderful relationships with Pastors from the 5 state area, and they soon invited those Pastors to be part of a Servant Leadership Team to put on Prophetic Conferences, beginning in 1997. Together the Rickards have founded the Midwest Apostolic Prophetic Conference, Cities Church, The International Healing Conferences, The International Association of Healing Ministries, RAIN (Resurrection Apostolic International Network), and "Revival in the Rockies," the annual RAIN Family Bible Camp which is held the last week of June each year in the beautiful mountains of Montana. Ramona travels with her husband worldwide, strengthening the ever-expanding RAIN Family of Churches, Pastors, Bible Schools, and Missionaries. She is also a sought after speaker for Women's Conferences and Events. Her book, "The Day the Angels Came" will soon be published.
Family Camp
A family-friendly, week-long camp, held each year since 1999 in the mountains of Montana. A time of connection and refreshing for families together.

International Missions
We hold multiple missions around the world each year that are designed to bring the gospel to the outer reaches of the earth.
IAHM
Conferences and learning all packed into one powerful program designed to help you unlock the gift of healing in your life!